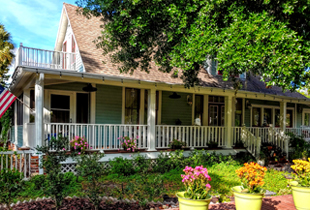 Find yourself again, .escape the city grind just a short gorgeous drive thru the real Florida and into it's heartland where everything is just an hours drive. Here you will get back to the garden and watch wild flowers forever grow. This Old Cracker House has been transformed into a elegant farm house if ever there was one. Feel the cool morning breeze and the sun kiss your face as you sip your latte on the back deck, Pick from the vegetable garden to prepare your lunch with grandmas all time recipe. Take a late afternoon nap in the double lofted red barn.
Walk into town to visit your favorite antique shops, attend the rodeo, take a canoe down the peace river where you will find one of the states largest habitat ..Bike down a country road and take in the fragrance and views of citrus groves and marvel over the endless field of green, In the evenings you may want to sit out on the porch to chat with friends over wine and classic music. Who says there is nothing to do in the country unless of course you decide to do nothing. Rent the house, rent a room or rent the charming attic apartment. Stay one weekend, one week or one month here whatever you choose you will always wish you could stay one more day week or month.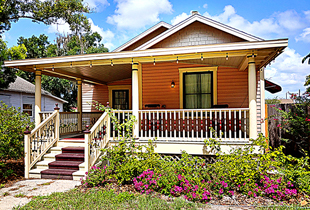 This Charmer filled with character is the perfect blend of old and new. This is what we call a "Vintage Lovers Delight". Fully restored to its former glory, we have achieved a blend of modern conveniences with tradition styling. Given additional space to this amazing historic home provided a 3rd master suite and spare room that are both connected to the open sun porch and back yard. A lovely "he or she" shed gives the yard a special place for anyone to create their own very private dream sanctuary.
We designed the interior for the inspired chief who loves to spend time in the kitchen. The kitchen nook fills the room with bright light where your guests will surely prefer dining in, or makes the "to go place" and great create space for all your crafty hobbies.
Sit by the fireplace where you will sink in to enjoy the serenity of quiet time for reading listening to music or just napping . This quaint but spacious home is where the guest will surely want for their forever home. BE OUR GUEST.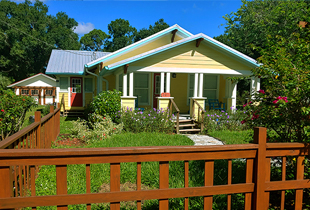 Come be our guest. This Country Cottage has the charm to delight all the senses. Fully restored, old made new, also provides modern conveniences with its remodeled updates are all here. You will bedazzle, with its original wood paneled walls and ceilings and scalloped detail will put an instant smile on your face. The charm to this cottage is in its cozy retro furnishing. But don't be fooled, there is plenty of space and storage in the bathrooms and kitchen. The back sun decks and the front porch will send you back to a time where friends gather at the end of the day to shoot the breeze while looking out onto the front garden.
The two car garage barn has been restored and converted to anything you want it to be. Exposed trussed / vaulted ceiling gives the true sense of Farm house. Insulated and air conditioned can provide a Guest house, Artist work shop, anything but a garage. The property sits on multiple lots giving plenty of room for outdoor living and parking. The garden design adds the word "English" to the word cottage. Everything about this inspired space screams sunny and bright inside and out. Our country cottage is truly special place to share good times and make memories.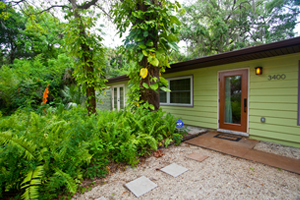 This lovely home is fully furnished with modern retro 50's vintage for the art lover and chef. Enjoy cooking in spacious kitchen and serve on beautiful vintage mid century dinner ware. Home has just undergone total renovation. Accommodates comfortably two individuals a third visitor even an occasion fourth camper in the guest house.
The grounds are beautifully kept with a zen like environment. The double lot makes it ideal for outdoor party event entertain in the evenings with pary lights or just relax during the day watch owls rabbits eagles listen to birds. This property truly is a retreat.
This property will soon be on the market waiting for its next owmer to take over the expansion project to make this a very special living quaters for a downtower. that loves privacey and seclusion yet close enought to the heart of the city.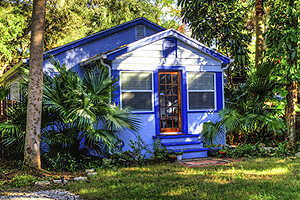 Come escape to your very own sanctuary, where the gardens and guest house are in a tropical environment and peace and quiet awaits at the door. Situated on a totally secluded street you are just a bicycle ride away from down town Sarasota or the beach and a jog away from the Bay Front.
The interior is equally unique with its retro furnishings from the 40's and 50's. Barbeque on the deck, read a book in the rain from under the front open porch or simply lounge on the patio in the partial shade… ideal for the inspired poet painter or musician. Here at the "blue house" it is our goal to maintain high standards of accommodations and to ensure every guest will not only come back for more but will tell all their friends of the best kept secret in Sarasota.
This property is currenly undergoing yet another project. We added three gables in keeping with the charm of a cottage look true to its oringins. The extra space has given more space needed for modern comfort. Come visit us soon to see the beautiful selections of flooring, kichen space and appliances and third vintage bathroom ..come see the new look of this lovely little beauty. We cant wait.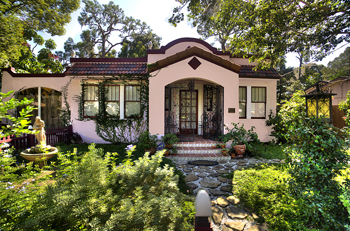 Our Historic Downtown Cottage is located within walking distance of Sarasota's Bay Front Parks, near the theater district, museums and Main Street. This cozy home with a vintage 20's décor has a contemporary feel with all the comforts of home. One can enjoy indoor /outdoor living as you step out onto a large deck from the master bedroom or kitchens French doors.
Stroll down to the court yard and through the gardens on the stone pathways where you can enjoy the three separate patios that surround the charming guest house. There you will find a private secret garden with an outdoor shower. Enjoy the peaceful sound of the wind and birds singing. You will soon forget you are in the heart of down town Sarasota. Our goal for this cottage is to make this your home away from home.
The new owner has not only taken care of the garden but has notched it up since purchase and living harmoniously in her new dwelling.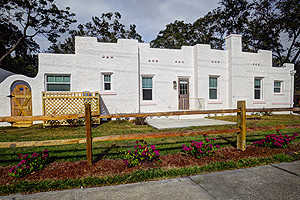 This quaint but spacious Mediterranean cottage has being fully restored to its former glory, it will take you back to a time when life was simple. Nothing lacking in comfort here, the space was designed to inspire. Modern appliances blended with vintage fixtures and antique furnishings have been transformed to create a cheerful yet sophisticated environment.
The enclosed court yard has been paved to add charm, private fencing closed off for privacy and crepe jasmine was planted along the the fench line where it has climbed up and over. Stays green all yeal round and gives off their frangrance from April to Mid June for everyone to enjoy . We added a back shed for storage and an outdoor Sink and Barbeque grill for outdoor gatherings with friends. Also great for day time lounging or for enjoying the cool evening air.
The new home owner now has a choice to finish off the parapits and window awnings with Rustic wood detailing stained dark and clay tiles to give an authentic Mediterranean Revival as we requested.
Coming Soon…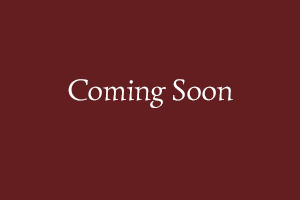 Linda has completed two other projects and there is currently one project in progress